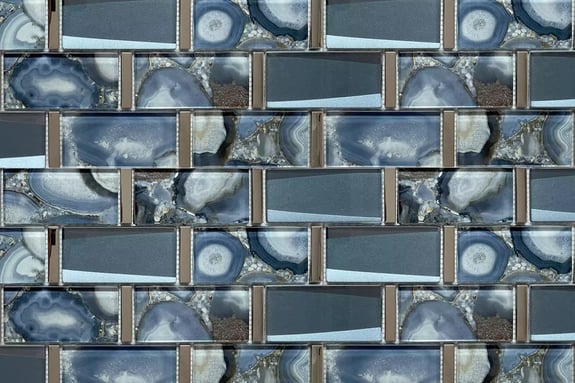 Authentic and Aesthetic Mosaic Tiles
With 100+ varieties of mosaic tiles in our range, we have something special to offer for anything you can imagine
BUY MOSAIC TILES IN BULK
Find the Perfect Mosaic Tile with GAUDEA's Finest offerings
Gaudea is proud to be one of the largest Foshan Mosaic tile factories with an enormous range of quality mosaic tiles in its kitty. With our network of warehouses, distributors and resources, we are capable of handling a mosaic tile project of any size, complexity and nature. Owing to our experience and team of experts, we can guarantee an exemplary range of available products at all times, quick order fulfillments, and excellent customer service.

Mosaic tiles add magic to almost any space, be it kitchens, living rooms, bedrooms, patios, pools, restaurants, spas and so on. Whether you wish to create sustainable and attractive commercial spaces with our glass mosaic tile or art mosaic tiles collection, or design head-turning living rooms with our decorative glass tiles or blue and white mosaic tiles; we have options for every style. Visualize soothing kitchen spaces, serene, uplifting outdoor areas with pools and patios of any genre; our mosaic tiles kitchen backsplash collection and ceramic pool tiles range does justice to any imagination. Take a look at our collection today and transform your artistic visualizations into reality with Gaudea - the best wholesale mosaic tiles supplier in China and worldwide.
BULK MOSAIC TILES
Buy in Bulk to avail Special Offers with GAUDEA!
In our ten years of experience in supplying wholesale mosaic tiles, we've worked with hundreds and thousands of contractors which has helped us understand the specific needs of bulk buyers. Over the years, we've customized our offerings to suit our global clientele of designers, architects, builders, wholesalers and retailers.
We continually upgrade to modern production processes that adhere to global benchmarks at our manufacturing units in the Foshan mosaic tile factory. Not just production techniques, we also keep our collection updated with designs and styles trending across the globe. This allows us to serve a versatile clientele, emerging from different ends of the globe, with equal ease. Take a look at our catalog to browse through our bestsellers. In case you have something specific and unique in mind, get in touch with us and we'll create it for you!
BUY MOSAIC TILES FROM CHINA
Questions about buying mosaic tiles
Does Gaudea sell loose tiles by the bag, or in quantities lesser than one sheet?
Yes, GAUDEA is in business with direct customers, retailers, wholesalers, project builders, and anyone else with an interest in mosaic tile collections. Therefore we are open to selling tiles in any quantities; small or large.
Does Gaudea ship to addresses outside China?
Yes absolutely! We have a global customer base with a huge focus on the USA. The response from our US customers was so encouraging that we even set up a warehouse there to serve them better.
Can I order a sample board from Gaudea?
We do not send out sample boards for a number of reasons. Firstly, our collection is extremely vast and it is feasible to fit them all on a sample board. Secondly, it is economically and technically challenging, as tile colors slightly vary by manufacturer batch. It is impossible for us to send you a sample board and fulfill your order with the same batch. Instead, we suggest you download our catalog to find the most updated collections and speak to us once you have something in mind.