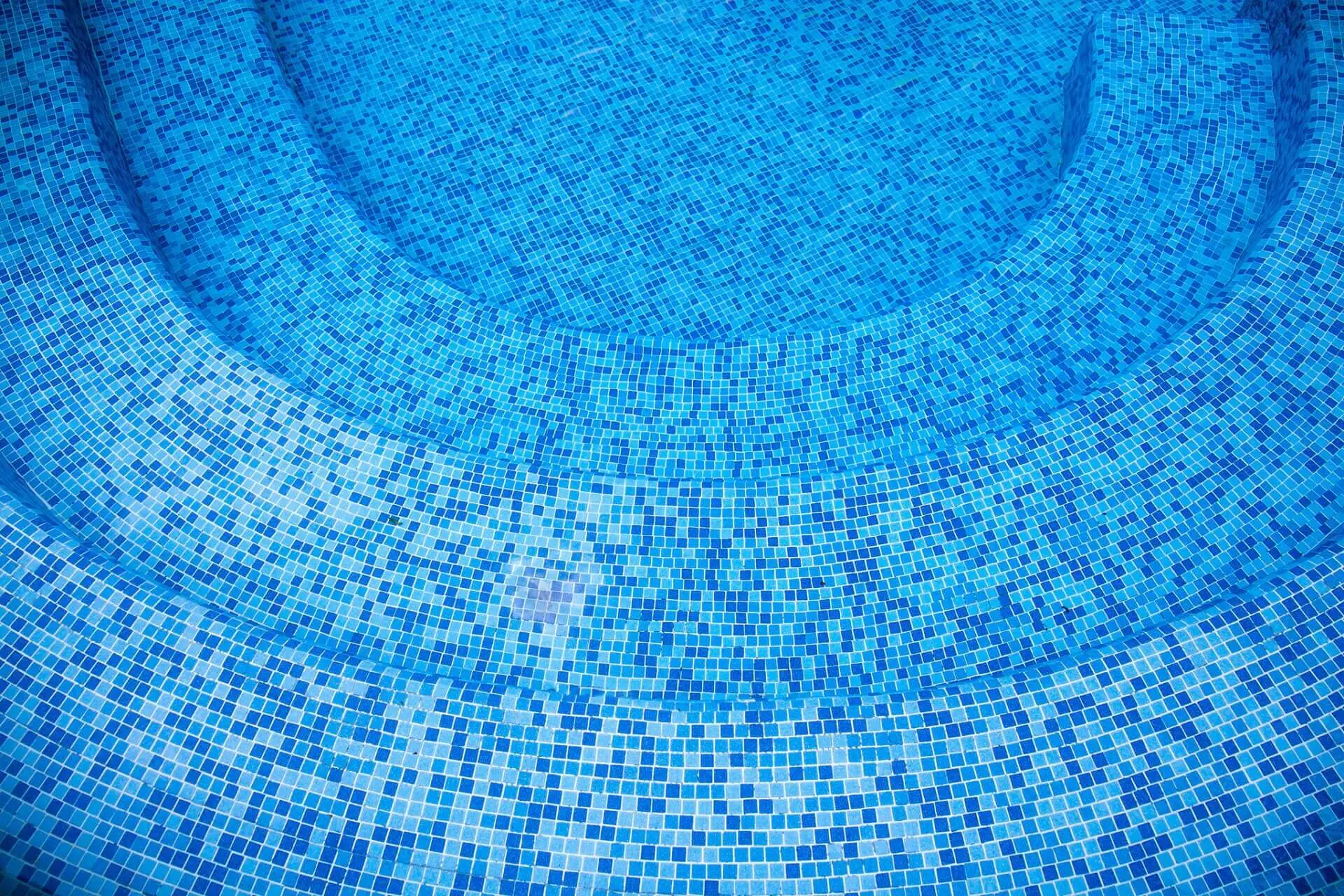 Pool mosaic tiles
Glass, porcelain and mosaic tiles suitable for pool and spa applications
Swimming pool mosaic tiles from China
GAUDEA offers the largest selection of ceramic and glass mosaic pool tiles. We take pride in producing the highest quality pool mosaics available. From the most luxurious spas and wellness areas to the pools of private residential plunge bath owners. Our color and pattern range is so wide that it allows you to create anything you can think of.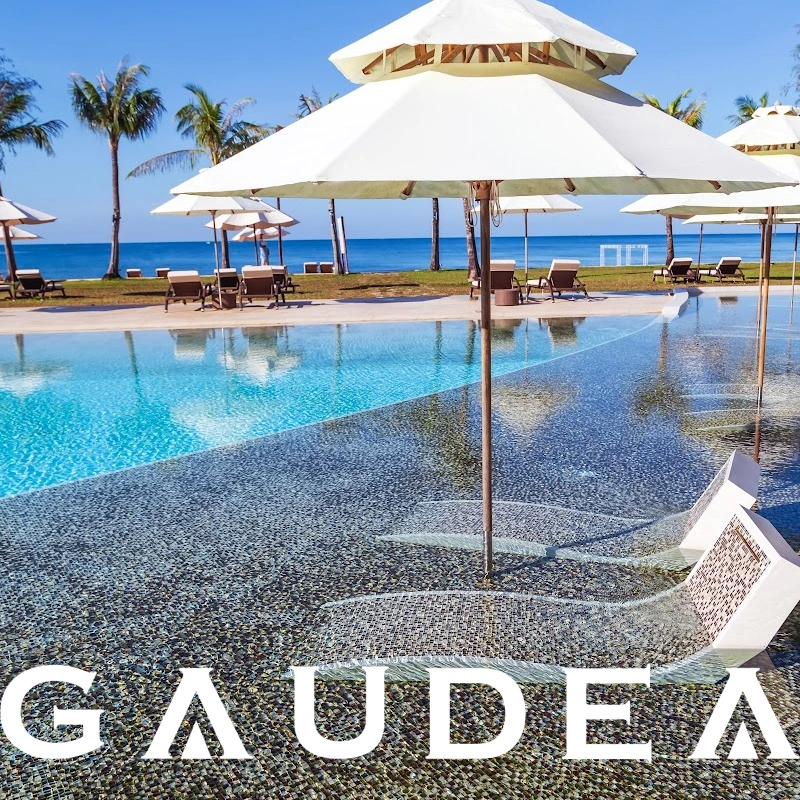 Stunning design and incomparable quality: this is our idea of a pool with glass mosaic tiles. First, you can choose from hundreds of different types of colors and almost endless decorations. Then we think about your safety, applying a special non-slip finish to our pool mosaics. Last, when it comes to durability, we are second to none as independent laboratory tests attest to the high resistance to detachment of our mosaic mounted on fiber mesh.
GAUDEA specifically focuses on tile and mosaic products that are created to withstand harsh chemicals, extreme temperatures and harmful UV rays. As durability exceeds standards for interior applications, customers can feel confident that these items are not only suitable for outdoor environments, but will also work flawlessly in their kitchen, bathroom, or other interior spaces.

Glass tile pools are visually stunning, require less maintenance with a longer lifespan than your typical pool finish, and increase the resale value of your property. You can choose from any one of the captivating stock mosaic tiles, or let us create a custom glass tile blend specific to your personal taste and style of décor.
Spa & pool mosaic tiles examples
GAUDEA provides turn-key designs for finishing your pool entirely in glass mosaic tile. Access our beautiful collection of swimming pool mosaic tiles. We can assist you with everything you need for a successful project. Dive into one of the finest pool mosaic tile catalogs. Mesh mounted, durable enough for outdoor environments, but equally suitable for your indoor pool or spa. Don't hesitate and ask access to our full digital catalog.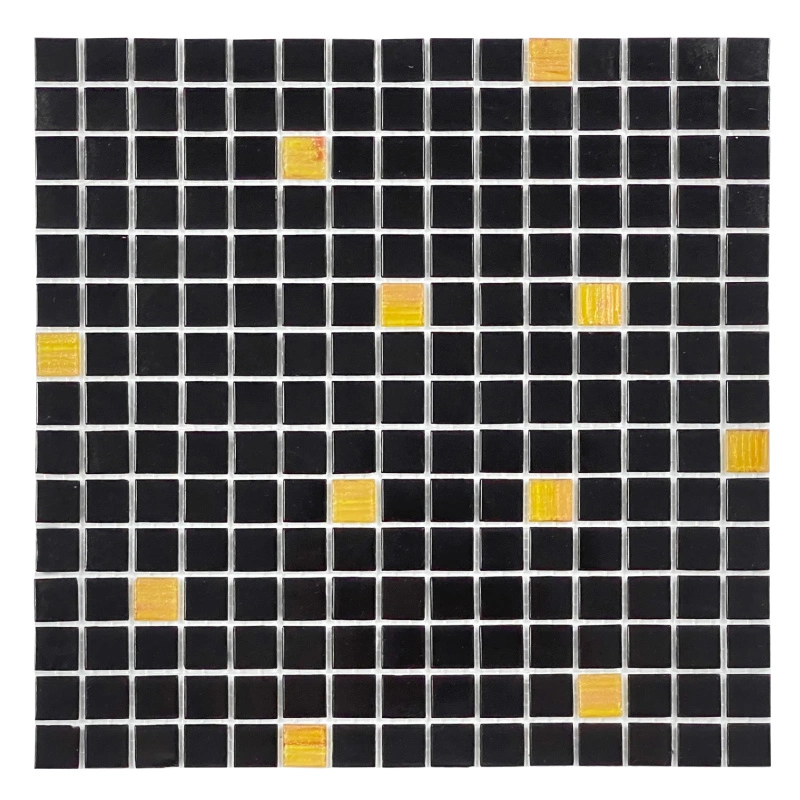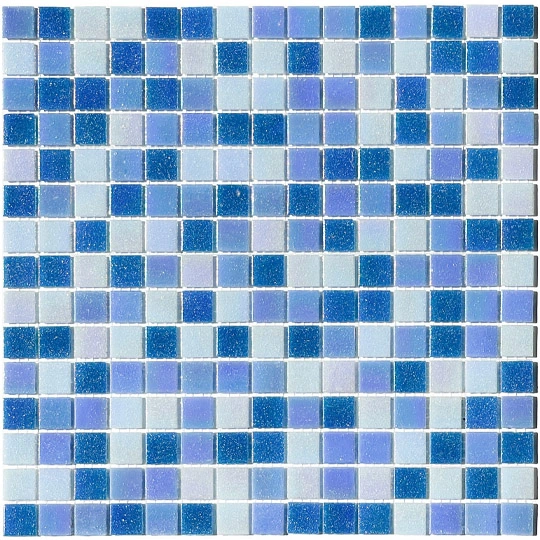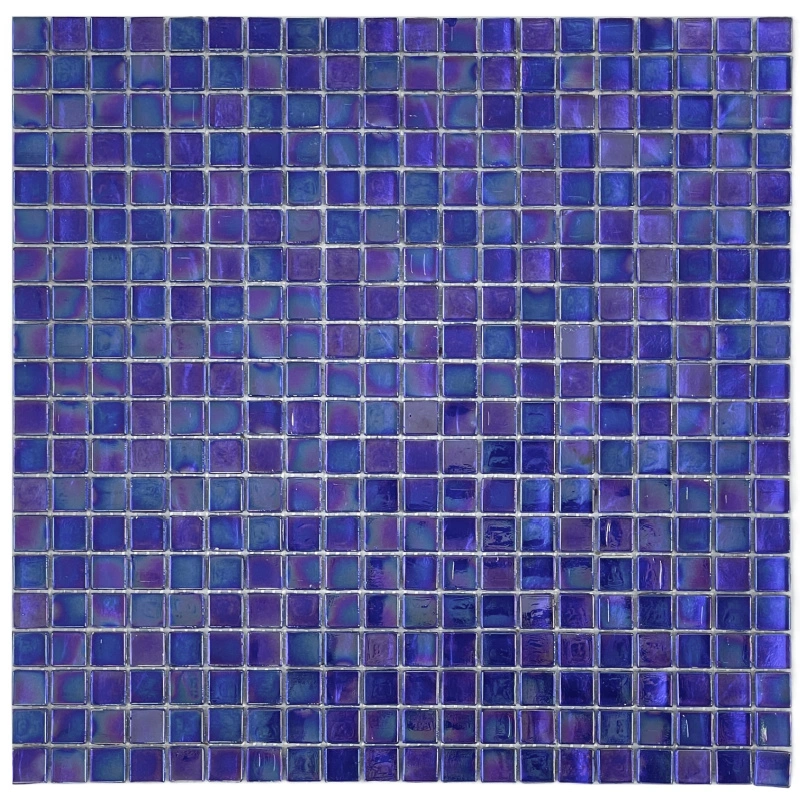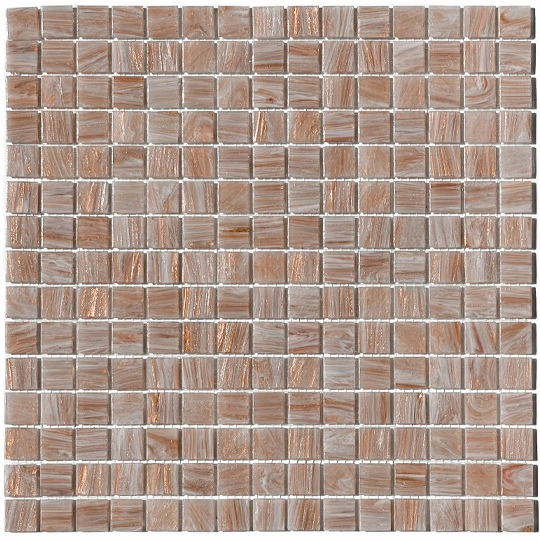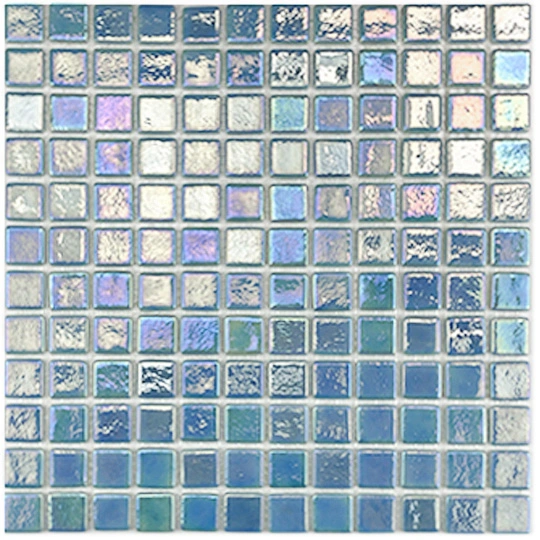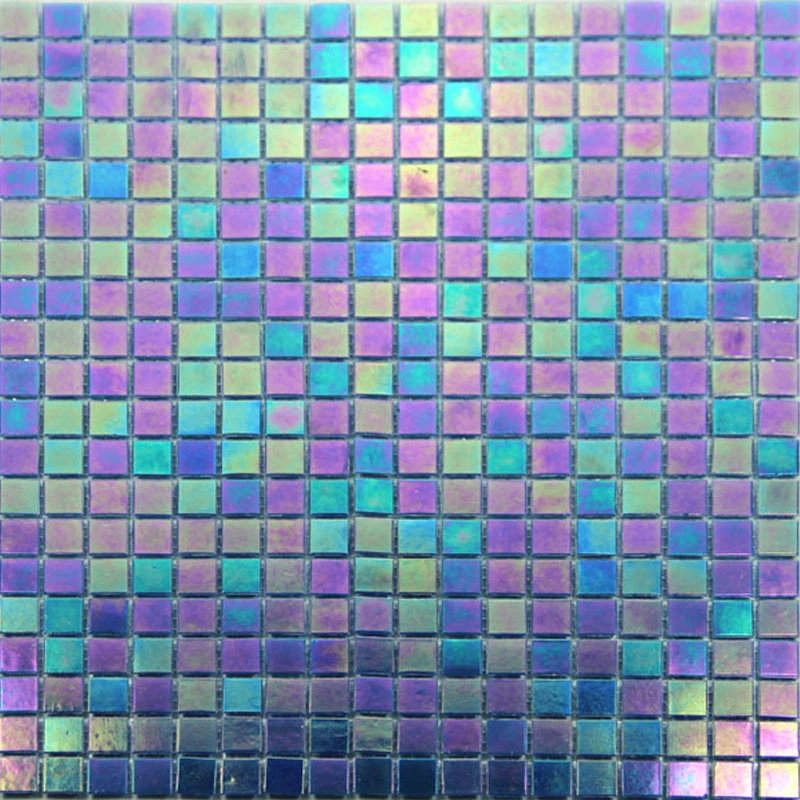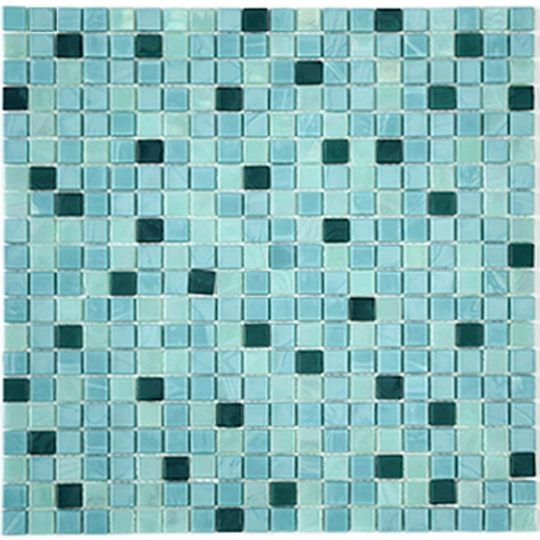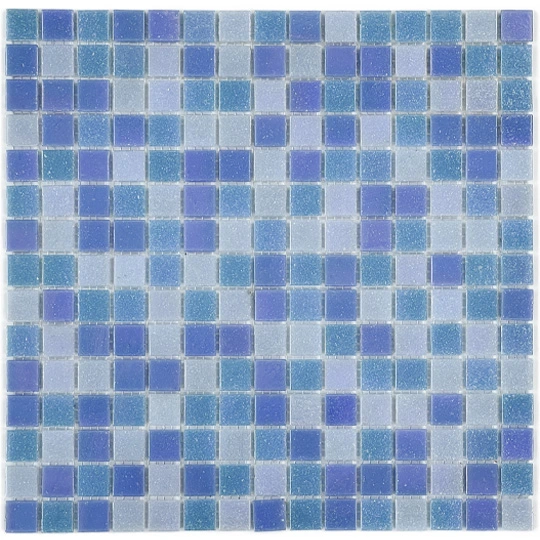 Why pool mosaic tiles are the best solution for your swimming pool?
Surfacing a pool can be a tedious and expensive process. The good news is that there are many great choices out there. One of the best choices is the swimming pool mosaics. In this article, we will tell you why pool mosaic tiles are the best thing that can happen to your swimming pool.
What are the benefits of pool mosaic tiles?
Tiling your pool has many advantages over other surfaces. This is because tiles are more durable than other surfaces. Also, you can quickly repair and replace tiles. This is not the case with other surfaces.
If your plaster surface cracks, you will need to resurface the whole pool. But if your swimming pool mosaic cracks, you will only replace individual tiles.
Let's see the benefits of mosaic tiles over the pool surfaces.
Mosaic pool tiles against plaster
Plaster was once the most loved surface for swimming pools, but not anymore. Tiles have since taken over the glory. Plaster is porous and provides fertile ground for the growth of algae. Tiles, on the other hand, are non-porous and do not allow algae to grow.
Another downside of plaster is that it retains stains and is not easy to clean. Tiles do not keep stains and are very easy to clean.
Mosaic tiles against aggregate
An aggregate pool finish consists of stone, glass, ceramic, and crystal in a type of plaster matrix. Aggregate is applied in a similar way as plaster. But, it has some advantages over plaster. It is more resilient with a decent life span than plaster, but still doesn't match up to tiles.
Tiles are costlier than both aggregate and plaster but make up for them in many ways.
Types of mosaic pool tiles
There are some factors you should consider when picking a surface for your pool. You will want to choose a surface that complements the rest of your outdoor areas. Below is a list of mosaic pool types that you can pick from:
Glass mosaic pool tiles
Ceramic mosaic pool tiles
Stone mosaic pool tile
At Gaudea, we can help you choose the suitable materials to resurface your pool. Call us on +86 136 8653 7687 or email us at info@gaudeamosaics.com.
FAQs
Questions about pool mosaic tiles
We can imagine you have questions about Gaudi's pool mosaics. We compiled the most frequently asked questions here below.
How to tile a swimming pool in mosaic tiles?
Mosaic tiles are perfect for transforming your swimming pool into a tranquil oasis. However, installing mosaic tiles is not easy. Read this article to learn how to install mosaic tiles in your pool.
How much are mosaic pool tiles
Our customization options include everything from custom tile blends and gradients to intricate hand-carved designs. Our team of artisans and tile experts can assist in every step of the design process to make sure you, our valued customer, gets exactly what you want, when you need it, and within budget. There is no project too small or too big! At GAUDEA we can tailor the material and production methods to suit your vision.
How long do mosaic pool tiles last?
Well, pool tiles are available in a variety of materials, and they all differ in their longevity. Waterline tiles can last a good 5 to 10 years if they are well maintained. Glass tiles last a little longer, between 8 and 12 years on average, if properly cared for. However, none of these tile options can hold a candle to ceramic tiles. Ceramic tiles are the most durable tiles for your pool and can last up to 75 years if you choose a good installer and take proper care of them!
How to clean mosaic tiles in the swimming pool
Cleaning and maintaining glass tile is a breeze compared to other surfaces. Glass is a non-porous material, which means it does not absorb moisture that can lead to mold. This advantage means that cleaning glass is simple and easy, and no harsh chemicals are needed. A simple cleaning with a sponge or cloth and mild soap is all it takes to keep your glass water line looking like new for years to come!